Are you considering giving your house a fresh new look with a home renovation? We are too!! As you know we just bought our first home in Pantego! The first step of our reno was paint!! When it comes to painting, it is important to plan ahead and take the right steps to ensure a flawless renovation. In this blog post, we will discuss some helpful tips to make painting your house easier and help you achieve the best possible results.
Choosing the Right Paint and Tools
Before starting any home renovation project, it is important to have the right tools on hand. When it comes to painting, this means choosing the right type of paint and ensuring you have quality paintbrushes. Lowes is a great place to start when looking for supplies. I highly recommend Sherwin Williams for paint, they take great care of you. Take the time to select a paint color that matches your vision for the room and choose brushes that are the appropriate size and shape for the job. By investing in good-quality tools and materials, you'll set yourself up for success in your home renovation project.
Preparing the Room for Painting
Before you start painting, it's important to properly prepare the room to avoid any damage to your furniture and floors. As a new homeowner, you want to protect your investment. The first step is to cover your floors and any furniture with paper, not plastic. Plastic can easily slip and cause accidents. Then, remove all switch and outlet covers to avoid getting any paint on them. Lastly, patch any holes in the walls and sand them down for a smooth finish. These simple steps will make the painting process much smoother and ensure a flawless end result.
Rolling on the Paint
Once you've got the room prepped, it's time to start rolling on the paint. This is the fun part where you can see your vision for the space come to life. Don't be afraid to invite friends over to help - the more hands on deck, the faster the painting will go! Turn on some good music and get to work. As a new homeowner, you might not have a lot of experience with painting, but don't worry - it's not too difficult. Use a roller brush with a long handle to reach the top of the walls and apply even pressure as you roll. Be sure to use enough paint so that you don't have to go back and re-roll the same spot. Remember, patience is key when rolling on the paint. Take your time and make sure each stroke is even and smooth. Don't rush, or you might end up with a messy-looking paint job. Once you're finished, step back and admire your hard work!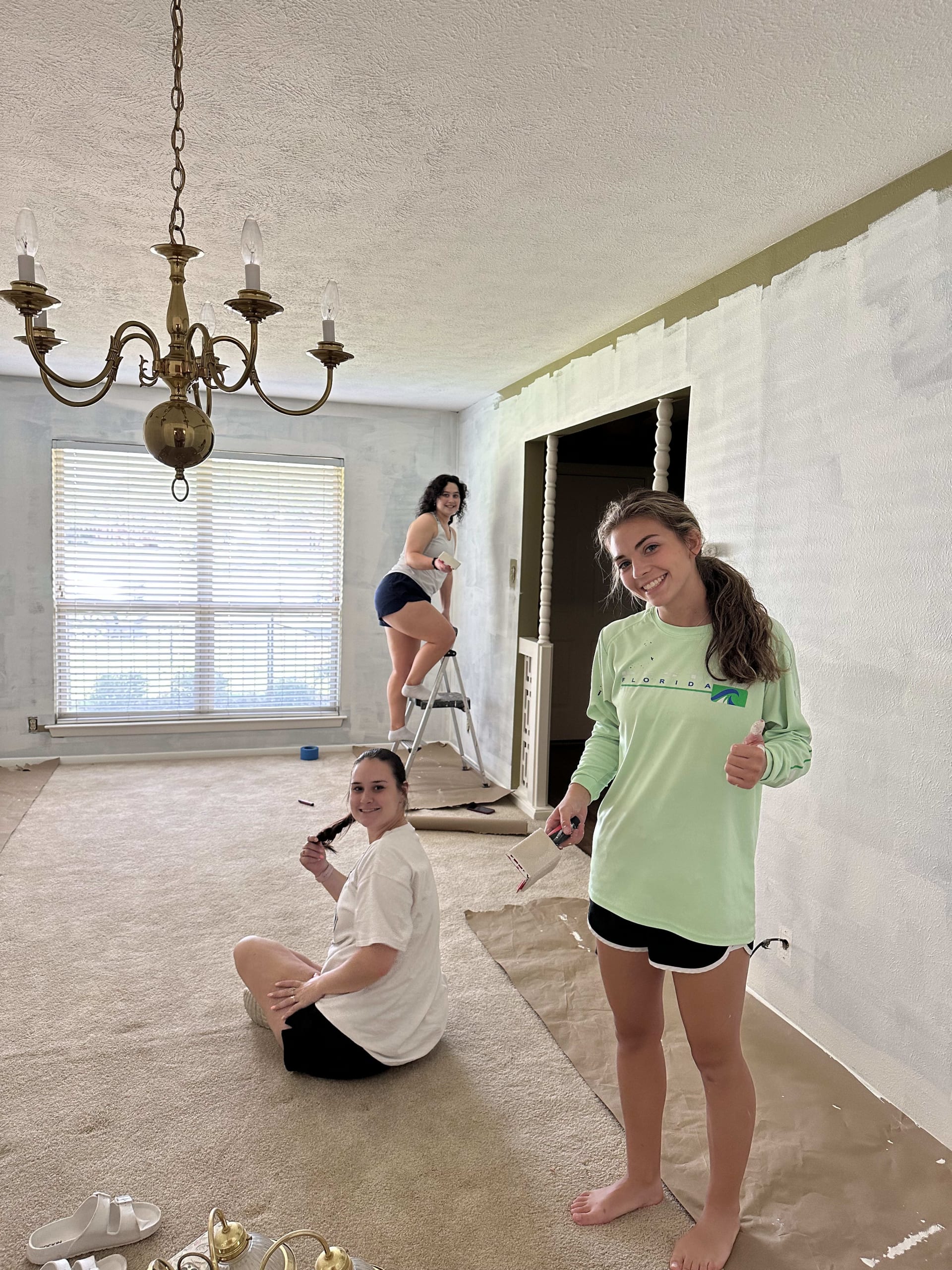 Letting the Paint Dry
You're one step closer to finishing your home renovation project. After applying the paint, the next step is to let it dry completely. It's important to avoid touching freshly painted surfaces during this time, as this can lead to smudging or smearing. While the paint dries, take some time to relax and celebrate your progress. Order some pizza, catch up with friends or family, or simply take a well-deserved break.
Hiring a professional
If you don't feel confident enough to tackle a painting job on your own, or if you simply don't have the time, hiring a professional painter is always an option. We decided to hire Gold Star Painting for some of the trickier aspects of our renovation, such as painting the living room beams, shutters, and front doors. Working with Gold Star Painting made the process incredibly easy. They provided us with a detailed estimate, took care of all the necessary prep work, and used top-quality paint and equipment to ensure a flawless finish. They also worked efficiently and with minimal disruption to our daily routine. One of the biggest advantages of hiring a professional is that they have the expertise to handle any unexpected issues that may arise during the painting process. They also have access to specialized tools and equipment that you may not have at home. Of course, hiring a professional painter does come at a cost. However, we found that the quality of their work and the time and stress we saved made it well worth the investment. If you do decide to hire a professional painter, make sure to do your research and choose a reputable company with a proven track record of delivering quality workmanship. Ask for references and check online reviews to ensure you're getting the best value for your money.